LISTEN.
Elasticity Drones: Final Drone

---
Beckoning Music (2011)

Passing (2011) - dedicated to Anna LaVigne (1924-2011)
---
---
Chorophobia (2011)
---
---
'path' (2011)
The combination of electronics and acoustic instruments has been a fascination of mine ever since I started composing. I find so much beauty in combining the old with the new. 'Path', being fully finished about 20 minutes ago, is fully derived from a series of notes with changing meters and a steady eighth note pulse that I had come up with before I decided to compose a piece for piano and electronics (the piece is now available for violin and electronics as well). Originally, the piece was to be for a string quartet. 'Path' is in three movements— without pauses in between. The whole piece is about 37 minutes long. Notes and ideas for "path" — D,F,C,E,D,C,G,F,G,D,A,G,D,F,C,E,G,Bb,G,Bb-G, F-G, F-A, F-Bb, G-Bb, F-C; 8th note pulse metres: 3/8 (3), 2/4 (4), 5/8, 3/4 (6), 7/8, 2/4+2/4 (8)

---
---
III. Body in Air
Voiceless Mary (2011)
---
---
Escape Music (2011)

---
---
---
---
Powered by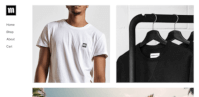 Create your own unique website with customizable templates.